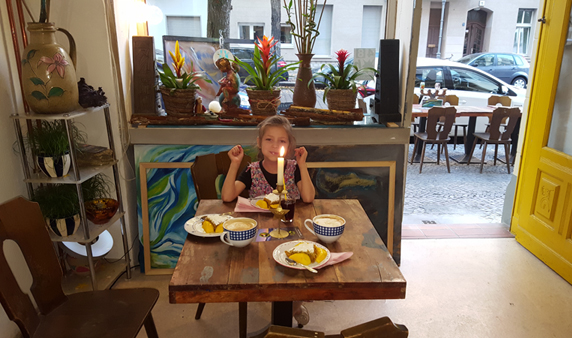 We are the first Latin American gallery cafe in Berlin. Our initiative came from the idea of ​​offering delicious vegan products – optionally gluten-free – in an ambience full of art in every respect. Our products are bio-vegan and all specialties are made by trained professionals for a healthy and sustainable diet. The products we use are of the highest quality available in the local market.
Coffee: The authentic taste of coffee from Peru, Colombia and Italy, international organic coffee.
(Healthy, full of good energy)
Wide selection of Latin American organic vegan products such as
Their dishes are prepared in an artistic style. (An excellent alternative for modern life and environmental protection "Viva Pachamama" – "Long live nature" in Galería Lunasol, 15 years in Berlin).
Our Gallery Cafe, 100% vegan with organic options, open every day from 12:00 to 20:00 (open Tuesday through Sunday and public holidays).
Come by and enjoy a special atmosphere. We would be glad to receive you (o);)