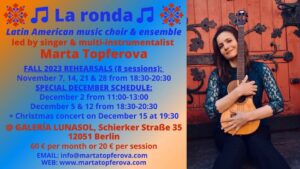 La ronda is a Berlin-based Latin music choir and ensemble led by singer and multi-instrumentalist Marta Topferova. The ensemble is intended for adults of various levels who enjoy group singing and playing.
We'll learn songs from Latin America which Marta has collected over her dynamic musical journey and illustrious career.
We will explore styles such as the Andean huayno or carnavalito, Argentinean chacarera, zamba or cueca, Venezuelan vals or joropo, Colombian cumbia or porro, Cuban son, bolero or guajira and more!
We'll learn primarily by ear, but there will be printed lyrics available as well as sheet music (for those who read music).
Besides singing, we will also learn basic rhythmic accompaniments such as hand clapping, maracas and clave, and practice rhythmic exercises. We will also develop a musical ensemble for instrumentalists.
The idea of La ronda is to provide a lively space focused on music-making, rather than an academic approach.
We rehearse on Tuesday evenings from 18:30-20:30 at Galería LunaSol at Schierker Straße 35 in Berlin – Neukölln.
You're welcome to come to one rehearsal and then decide if you'd like to participate on a monthly basis. The first rehearsal costs 20€ and then if you decide to stay, it costs 60€ for the entire month to reserve your spot, paid upfront.
In general, participants will need to commit on a monthly basis, because space is limited and we also need continuity in order to learn the music.
The vocal group will focus on singing and rhythmic accompaniments (clapping / hand percussion). Or you can participate as an instrumentalist playing any instrument you play – or you can do both – sing and play.
• The price per month is 60€ (for 4-5 Tuesdays, depending on the month, PREPAID at the beginning of the month).
The rehearsals will be held in English / Spanish, depending on the participants.
 Si deseas esta información en español, por favor escríbeme! 
BIO
Marta Topferova is one of the most unique singers and songwriters of her generation. She has been heavily influenced by Latin American folk music as well as Czech and Slavic musical traditions. Her musical beginnings were in two youth choirs, where she sang and recorded classical and folk music for eight years. Afterwards, she focused on studying voice, guitar, Venezuelan cuatro and dance in Spain and the United States with various teachers. In 1996, Marta established herself on the New York City music scene, where she collaborated with some of the best musicians from the Latin, jazz and world-music circles, and this experience forged a dynamic mix of styles in her work. Marta has written over ninety original songs, recorded nine CDs for numerous labels, and been featured on radio and television programs worldwide. She returned to Europe in 2012, where she leads and composes for several projects, which feature the most prominent musicians from Eastern Europe as well as Latin America. Marta has toured the U.S., Europe, Argentina and Thailand.
For more information:
https://www.martatopferova.com/